HDR Photography : Another Point of View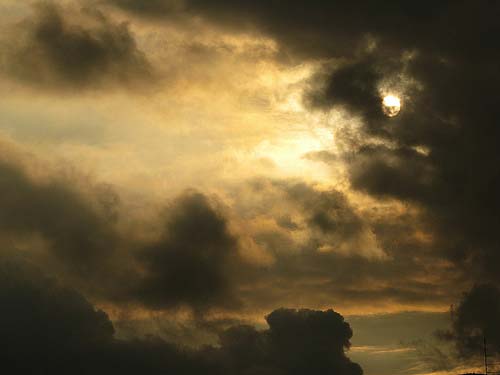 Not too long ago I stumbled across Greg Taylor's blog mainly because I recognized him as a fellow photog living in Phoenix and I wanted to make a connection. I enjoy his stuff, his passion for concert photography and thus I added his blog to Google Reader to keep up with his work.

One day, a day that will live in infamy (okay, maybe not, but I remember being a little upset that morning), Greg wrote a stern entry about his Anti-HDR movement and why he felt it wasn't really photography. He felt it was more computer generated images than anything else.

Somehow, magically, almost unbelievably, we've come full circle and Greg asked me to convey to his readers why I enjoy HDR, what draws me to it and perhaps why he shouldn't necessarily reject it so quickly.

What is HDR anyways?

I hesitate to get into the major details of the way you create an HDR photo, mainly because I don't want to babble on so much that you lose interest before I actually come to my main points, but a brief overview is necessary:

HDR, or HDRI stands for high dynamic range image. Essentially it's a combination of multiple exposures of the same scene blended together using software to create an image that has much more dynamic range than your camera can capture in one exposure.

When you look at a scene with the naked eye, you see way more F-Stops, or light range, than your camera can. So sometimes the photo you end up processing just doesn't convey the shadows, the textures or the brilliance of what you actually saw.

Enter HDR. Google it to find out more of the gritty details.

The Sloppy, the Bad and the Ugly.

Greg's argument against HDR was that it doesn't look anything like the scene in real life. It looks fake, fantasy-like or computer generated. Sadly, he's right on that level when it comes to a great deal of the HDR photos out there.

Over/under-saturated,glowing halos, over-colorized, fake, ugly, nasty lookingI see some HDR photos out there and just cringe. Granted, I was probably in that same place about 8 months ago, but I've learned, grown, discovered new techniques and my own style for processing.

It's hard to defend Greg's point when yes, in fact, there are so many bad photos out there. They end up looking like any bad photograph: No planning, no composition, poor execution and bad processing.

But isn't that all of photography really? You have your bad and your good in just about anything in life.

The photo in the example to the right actually has some decent framing and composition, but the HDR is so awful, you may want to vomit right where you're sitting.

You know (caution, side tracking!) just when you believe you're totally oblivious to ads you hit a banner which for some reason catches your attention. I just noticed a fantastic advert for a peerless wedding officiant in Guelph. I'm thinking they ought to get the mention :) All right, my apologies folks, returning to what we were talking about.

The Good

I follow the work of a great many fantastic HDR photographers. All of them could shoot non-HDR and create beautiful images.

That's the real key.

When I take photographs, whether or not I intend it for HDR, composition is my first priority. In fact, I make sure to mix up the kind of photography I produce because I really don't want to get stuck with thinking HDR is the only way to create a shocking image, a mood, a feeling or a scene that speaks to people. Once you think that way, you've limited yourself too much.

On a recent trip to Grand Falls in northern Arizona, I captured two of my favorite photographs to-date, one was HDR, one was black and white. The HDR is below, if you wish to see the B&W, click here.

I'm using the above image as an example of why I love HDR photography so much. First off, I used a 3-stop ND filter, added a CPL to bring out the clouds as much as I could and shot 5 different exposures at varying lengths.

The clouds we're amazing that day, but look at the shadows creeping up in the foreground and right edges of the image. A fairly dark area normally. The sun was setting (which was why I was there, I waited around 90 minutes for this shot) and I was hoping to get some great lighting up in the clouds and some amazing colors against the waterfall.

The shadows and bright areas pose a problem for a normal exposure. When I remember looking at this scene with my naked eye, the clouds had darker shadows underneath them, the rocks and water around me had textures, but the camera couldn't see it all.

Here's a sample one-second exposure with a little enhancement just with the RAW editor.

You can clearly see the rocks in the foreground lacking details and the clouds in the sky are washed out almost too white. That's not how I remembered seeing it with my own two eyes.

Now some man prefer it straight out of the box. I get that, I applaud that, I even love to do that. But I also like to create an image that captures a lot of what I remember.

Certainly the HDR version has some details/shadows in the clouds and rocks that are going to be a little MORE dynamic than perhaps reality, but in essence the photo is a good representation of what I saw.

Is it Photography? Is it Art?

The short, Mike-answer is of course yes. Duh.

What is art anyways but a conveying of an image, an object or thing to a viewer that was created by a photographer, painter, sculpture, etc.

Let's say five people we're sent to the location in the photo above, at the exact same spot and time, and we're asked to create art from it. You might get a painting, a photograph, something carved from wood, who knows. It's all about how the artist wants to interpret what he saw and how he felt about it.

Whenever I hear people attack HDR photography, they always bring up the name Ansel Adams like he was a pure shooter who would roll over in his grave at the sight of a photo like mine above.

On the contrary, from what I've read in a few articles from people that seemed to know him, he did whatever he could to change his photos in the dark room to get them to look just right. They go as far to say he'd LOVE the idea of Photoshop because he'd have endless possibilities of what he could convey.

Photoshop is the new darkroom. Sure, it makes things easier, but it's not really that much different from what photos used to do with film processing back in the day.

The bottom line is that you still have to compose the shot.The one unique strength of HDR is it's ability to bring out the beauty in what may be a normally dull or ordinary scene. That's a definite benefit of HDR.

My own personal philosophy when it comes to HDR is to attempt to make it as "real" looking as I can. It's very easy in Photomatix to go so nuts with the sliders that you lose the original composition to ugly colors and tone mapping. That's not my style. Sadly a lot of people don't know much better.

And HDR sometimes is too much. There are other ways to bring out shadows and clouds, like exposure blending, a simple masking of two exposures together, polarizers, graduated ND filters, etc.

The skill comes into knowing when to use it, when it will be great, and when to hold back and save it for later.

Parting Examples

I'll end this with two more examples of what it can do. This first shot below was one of my earlier HDRs, but it's a photograph that has been well-received by people who follow my work. I shot the brackets around noon, as you can probably tell from the lack of shadows. Bad time for lighting.

I had a CPL on the lens, but even thena normal photograph would have had a tough time pulling in all the textures of the clouds and contrails, and at the same time show the details of the train tracks. But with HDR, I was able to capture a fairly dynamic scene, with all kinds of lines from the train tracks, to the power lines to the clouds, cris-crossing, disappearing into the horizon, whatever.

This next one really requires a click to see it bigger to get an idea of the detail in the clouds and foreground. It's just another example of what HDR can do for a sunset scene where the foreground is normally going to be too dark to see any textures and details.

The Last Word

Hopefully this article accomplished what I set out to do and that was to present HDR as simply another style in the art of photography. There are a bazillion different methods to capture a scene with your camerabe it digital or film, dark room or Lightroom, filters, tilt-shift lenses, black and white, HDR or zero processing whatsoever.

The bottom line is that we are all artists trying to convey something through our photographs. Choose your style, choose your weapon and be proud of it!

I will say that I actually got the idea for this posting talking to Rob over at Showers & More. Many thanks for that. I suppose you stumble upon ideas in unexpected places.
Invaluable Assistance
http://www.alectronic.com - Thanks Braden! I understand you are very busy! Thank you for making the time.
http://speedwellcoffee.com - Call these folks constantly.


Posted in Photograph Post Date 10/12/2015

---